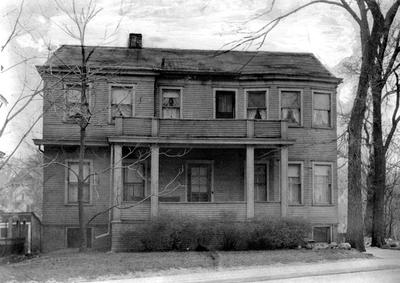 The Sisters of the Third Order of St. Francis were founded in Peoria on July 16, 1877, by Mother M. Frances Krasse, O.S.F., and Bishop John Lancaster Spalding.
Property was obtained in 1877 for St. Francis Hospital, which is the present day site of OSF Saint Francis Medical Center.
Later that year, St. Joseph's Hospital in Bloomington, Illinois, was established, moving in 1968 to its present site, OSF St. Joseph Medical Center.
In 1884, five sisters were sent to Escanaba, Michigan, to begin working at Delta County Hospital. In 1915, the Sisters purchased that hospital and renamed it OSF St. Francis Hospital.
By then, the Sisters were already operating St. Anthony Hospital, which they established in Rockford, Illinois, in 1899. The hospital in Rockford moved in 1963 to a new facility, known today as OSF Saint Anthony Medical Center.
1900s
In 1905, the Sisters founded what is now Saint Francis Medical Center College of Nursing.
St. James Hospital was established in 1907 in Pontiac, Illinois, moving to a new facility in 2002 as present day OSF Saint James-John W. Albrecht Medical Center.
St. Mary's Hospital was established in 1909 in Galesburg, Illinois, and moved to a new facility in 1974, where it is today OSF St. Mary Medical Center.
OSF Home Care, which serves patients in their own homes through hospice and other home health services, was established in 1983.
In 1990, OSF Children's Hospital of Illinois was officially established within OSF Saint Francis Medical Center as a pediatric hospital.
OSF Medical Group was started in 1994, offering ambulatory services and a network of primary and specialty care providers and practices.
2000s
In 2007, OSF Holy Family Medical Center joined the OSF family in Monmouth, Illinois.
In 2008, the OSF Illinois Neurological Institute was organized to provide professional services of neurosurgeons and other physicians specializing in neurosciences.
2010s
In 2012, Ottawa Regional Medical Center was integrated with OSF HealthCare, changing its name to OSF Saint Elizabeth Medical Center.
In 2013, Jump Trading Simulation & Education Center was established in partnership with the University of Illinois College of Medicine Peoria.
In 2014, Kewanee Hospital joined OSF HealthCare as OSF Saint Luke Medical Center. That same year, what is now known as OSF Saint Anthony's Health Center in Alton joined the OSF family.
In 2015, Mendota Community Hospital integrated with OSF HealthCare and became OSF Saint Paul Medical Center.
In 2018, OSF Sacred Heart Medical Center in Danville and OSF Heart of Mary Medical Center in Urbana joined the OSF Family.
2020s
In 2020, the Sisters expanded to the Chicago area with OSF Little Company of Mary Medical Center in Evergreen Park.
Thanks to the changing health care landscape, OSF OnCall was established in 2020 as the digital arm of OSF to respond with easier, more convenient ways to get health care. OSF OnCall offers always-on digital care services for modern consumers, including virtual and in-person urgent care options and remote patient monitoring for a broad spectrum of needs.
In 2021, Princeton's Perry Memorial Hospital became a part of OSF HealthCare, now known as OSF Saint Clare Medical Center.
Throughout the rich history of OSF HealthCare, what has not changed is the Sisters' exceptional commitment to the health of our communities. Though they understand that human caring is the most powerful medicine of all, they integrate that belief with an eagerness to provide OSF caregivers with the best in technology and tools for superior patient care. The early Sisters were pioneers in health care and so are the Sisters today.
OSF HealthCare is proud to be among the nation's leading innovators in the transformation of care for better health for our communities, consistently excellent patient experience and lower costs.