OSF Home Health therapists work to improve your condition as you progress through speech therapy, occupational therapy or physical therapy.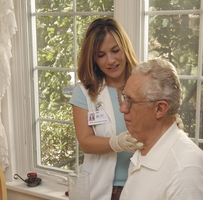 Speech Therapy
Our speech therapists plan and teach exercises and activities designed to improve speaking, swallowing, reading and understanding.
Such therapy can benefit patients with any of the following conditions:
Difficulty speaking or being understood by others
Difficulty swallowing medication, food or liquid
Problems with choking, gagging or feelings of throat obstructions
Episodes of aspiration pneumonia
Memory or cognitive deficits
Recovery from surgery
Occupational Therapy
Our occupational therapists work to restore lost mental and physical skills through creative and therapeutic self-care activities.
They promote independence by teaching ways to take care of yourself and determining any equipment needs.
Occupational therapy is helpful to patients who have:
Fallen and have mobility issues
Decreased food intake due to issues with preparing food or eating
Difficulty dressing or difficulty bathing
Safety concerns regarding self care, such as cooking or bathing
Visual or cognitive issues
Recovery from surgery
Physical Therapy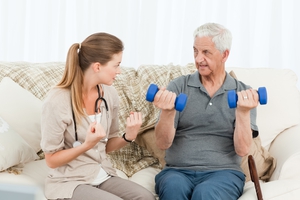 Physical therapists help you develop muscle strength and prevent further disability.
They teach you how to use special equipment and exercises to increase confidence, endurance and speed of recuperation.
Physical therapy can help patient who have:
Fallen at home or in the community
Weakness or physical limitations
Recently begun using a cane, walker or wheelchair
Personal safety concerns
Recovery from surgery
Contact Us
When a patient demonstrates a need for rehabilitation therapy, contact OSF Home Care Services at (800) 673‑5288.