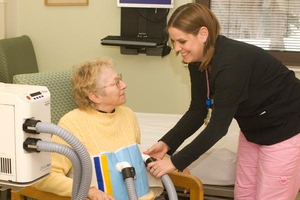 Respiratory therapy is the treatment of lung disease and other acute and chronic conditions of the pulmonary system.
An OSF HealthCare respiratory therapist is equipped to treat patients of all ages who require respiratory interventions.
Conditions they treat include:
Acute respiratory failure
COPD (chronic obstructive pulmonary diseases), such as chronic bronchitis and emphysema
Carbon monoxide poisoning
Chronic cough
Dyspnea (shortness of breath)
Pulmonary fibrosis (scarred lungs)
Your therapist will help you return to normal breathing levels.
We will work with you to pinpoint environmental issues that contribute to your breathing issues.
And we will provide education, motivation and rehabilitation to help you manage and maintain your breathing levels on a long-term basis.
Our goal is to reduce the frequency and severity of your symptoms, so you can take care of yourself in performing everyday activities – and decrease your visits to the doctor or hospital.