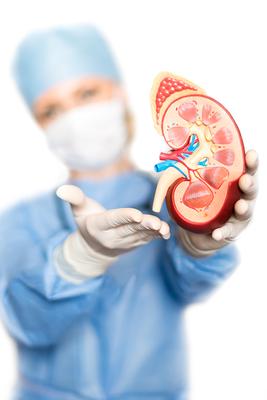 When your kidneys fail, you need one of two treatments to stay alive: a kidney transplant or dialysis (either peritoneal dialysis or hemodialysis).
A kidney transplant improves life expectancy compared with dialysis. It also improves the quality of life.
At OSF Saint Francis Medical Center, we perform transplants with kidneys donated by living donors, as well as transplants using kidneys from deceased donors.
By Your Side Through It All
Through years of experience, we've put together a transplant care team that helps patients deal with every aspect of the transplant process from beginning to end.
The comprehensive care team includes:
Transplant nephrologist collaborates with the transplant surgeons and team to carefully evaluate and manage transplant candidates, recipients, and living donors. The transplant nephrologist specializes in the management of immunosuppressive therapy.
Transplant nurse coordinators facilitate all phases of the transplant process. Their responsibilities include evaluating transplant candidates and potential living donors, educating patients and families about what to expect and coordinating post-transplant follow-up.
Financial coordinators help you navigate things like insurance coverage and develop a financial plan.
Dietitians help support the health of you and your new kidney with proper nutrition.
Social workers help you deal with an emotional or mental health stressors.
In addition, a host of expert-trained nurses, surgeons and all the other excellent health professionals are available to serve your needs as you recover in one of the leading hospitals in downstate Illinois, OSF Saint Francis Medical Center.
Location Matters
Follow-up care can be very intensive, requiring multiple blood tests every week for several weeks.
Having a care option in Peoria provides people in central Illinois with a more convenient option than having to go to Chicago or somewhere else for this care.
Being close to home allows you to be closer to your personal support system of friends and family.
When is the Best Time to Explore a Kidney Transplant?
It is best to explore transplant early in your disease course, before you need to start dialysis.
This way, you might be able to get a transplant 'pre-emptively,' without ever needing to start dialysis.
If you are not yet on dialysis and have a glomerular filtration rate (GFR) of 20 or less, you can already begin building "wait time" on the deceased donor transplant list.
Get Started
Kidney transplants require a referral.
Patients may be referred to OSF Saint Francis Transplant Services for consideration by their nephrologist, dialysis center or by self-referral. Early referral is important.
To get started, please complete our online referral form.
Upon receiving a referral, each transplant candidate is reviewed and evaluated on an individual basis.
Our team considers your medical condition, support system for the early post-transplant period, and adherence to your medical regimen. We need to determine if you are healthy enough for the transplant surgery, to tolerate the immunosuppressive and other medications, and are able to comply with medications and monitoring long term.
Selection Committee
Our multidisciplinary team reviews each patient's details prior to deciding whether to approve him/her for kidney transplant and placing on the waitlist, or considering a live donor transplant.
The committee consists of the transplant surgeon, transplant nephrologist, transplant coordinator, pharmacist, financial coordinator, social worker, dietitian, and other providers pertinent to the patient's transplant workup.
Waitlist
The transplant coordinator will let you know when you are listed on the national waitlist.
The United Network for Organ Sharing (UNOS) manages the list of all the people across the US waiting for an organ transplant. UNOS ensures that deceased donor organs are distributed fairly using a transparent system.
Deceased donor kidneys are allocated based on a number of factors, including wait time, years on dialysis, blood type, kidney quality, how far away the donor hospital is , and a few other factors, such as being a child or a previous kidney donor.
While on the waitlist, open communication with your transplant team is a necessity. The team needs to be aware if you become sick, hospitalized, require a blood transfusion or go out of town.
It is important that the transplant coordinator is able to contact you when you when an organ offer comes up. This call can happen day or night. Please make sure the transplant office has your current phone contact information.
Preparing for Transplant Surgery
Follow-Up
Having the opportunity to receive a kidney transplant in Peoria helps provide those in Central Illinois with a convenient option rather than going to a larger city, such as Chicago.
Don't Rush Your Recovery
One important aspect of kidney transplants is the follow-up care needed after. It can be very intense, and transplant can be hard work.
It is important to know that you may not return to a "normal lifestyle" right away. It requires time and patience, and it may be several months before you have a good understanding of how to manage your treatment.
Appointments & Medications
Compliance with treatment, medications, and follow-up is extremely important.
You will be started on various new medicines that you will be required to take on a very specific schedule. Follow-up appointments and timed blood tests will be required multiple days a week for several weeks after transplant.
Personal Support
It is imperative to have good personal support and transportation to help you get to and from frequent blood draws and appointments. There is potential for financial burdens after transplant as well.
Our Team is Here for You
At OSF Saint Francis, you are treated with compassion, and you have comprehensive health services at your fingertips, from evaluation to surgery to recovery.
After the transplant, our multi-disciplinary transplant team will continue to help with any needs you may have.