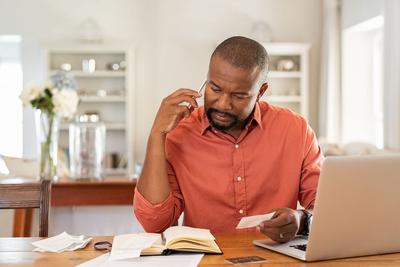 OSF HealthCare patient financial navigators are specially trained to review eligibility and benefits from your insurance provider to generate an estimated out-of-pocket cost and secure an authorization, if applicable. Our team is also able to assist with self-pay patients to review available options for out-of-pocket costs.
Your well-being is important to us. We work directly with you, your provider office and your insurance provider to verify your eligibility and ensure you have a clear understanding going into your procedure, surgery, admission, test or other specialty service.
Depending on your individual need, the financial navigators may reach out to you by phone, OSF MyChart messaging or mail. (Our financial navigators are spread throughout the OSF HealthCare service area so you may receive a call from any of the various area codes where OSF has facilities.)
What We Offer for Patients with Insurance
Our goal is to relieve you of stress and worry about the financial aspects of your visit ahead of time, so you can focus on getting well.
If applicable, once your procedure, surgery, admission, test or specialty service is scheduled, we will reach out to you to review your benefits, discuss your insurance eligibility and start any pre-authorizations.
For patients eligible for Medicare, we can help you understand the different plan options available. It's important you have as much information as possible when deciding what type of coverage best fits your needs.
We verify whether your procedure is authorized and help you with any financial need you may have.
For our oncology patients, we can help assist you with resources that may cover or lessen your financial burdens.
What We Offer for Self-Pay Patients
At OSF HealthCare, we believe all people have a right to receive needed health care, regardless of their ability to pay. There are options for relieving some of the financial hardship, such as Medicaid or drug assistance programs. Our self-pay navigators can help evaluate those opportunities and determine your eligibility for certain programs.
Our financial navigators can assist you in:
Screening for eligible financial benefits (financial assistance, Medicaid, insurance coverage)
Determining your out-of-pocket responsibilities
Payment plan options
Contact a Financial Navigator
Navigators are available Monday - Friday from 7 a.m. to 5:30 p.m. We encourage you to call (833) 673-4322 and select one of the options below to get connected with one of our financial navigators.
Option 1 - Outpatient
For services related to computerized tomography (CT), magnetic resonance imaging (MRI), positron emission tomography (PET), ultrasound (sono), certain fluoroscopy exams, sleep studies and diagnostic mammography and biopsy
Option 2 - Inpatient
For services related to endoscopy, heart/vascular cath lab, interventional radiology, surgery and inpatient admissions.
Option 3 - Specialty
For services related to pain clinic, cancer center and radiation oncology (authorizations only - for financial assistance select Option 5), therapy/rehab (speech, occupational and physical therapies), infusions, home health and behavioral health.
Option 4 - Facility/Hospital Price Estimate Line
For general price estimate requests for facility or hospital only services. (For physician charges or services in the clinics, please contact your provider office at this time.)
Option 5 - Self-Pay and Out of Pocket Assistance
For all self-pay services, as well as Medicaid eligibility, Medicare optimization and cancer center out-of-pocket assistance
Option 6 - Billing
For any inquiries regarding your OSF billing statement
Option 7 - External Referrals
For any specialty provider referral or a test ordered by your OSF provider to be completed outside of OSF