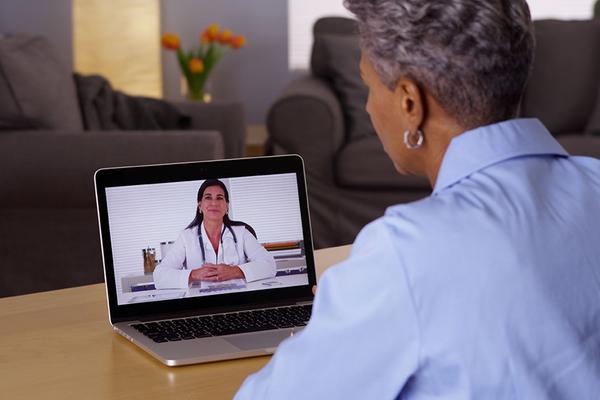 OSF HealthCare offers telehealth options for many outpatient appointments, including visits with primary care providers and specialists.
Telehealth options, such as secure phone or video chat, can be the best option for your care.
While some medical care requires in-person appointments, many visits can be effective and convenient by video.
Scheduling a Video Visit
When making an appointment with your provider, you can request a video visit. Your care team will determine if a video visit is the appropriate type of visit for your need.
You can also schedule your own video visit with your provider through OSF MyChart.
After your appointment is scheduled:
If you do not have an active OSF MyChart account, an activation code will be sent to you following confirmation of your appointment. You will need to register as a new user to prepare for your upcoming visit. Please complete this step within 24 hours of receiving the link.
If you have an active OSF MyChart account, you will see the video visit in your upcoming appointments list within the application.
Specific instructions to help you successfully connect to the video visit will be available within the appointment details section in OSF MyChart.
Preparing for a Video Visit
Please familiarize yourself with the content on this page prior to your appointment.
Tip sheets are also available for your convenience. Use these instructions as an additional resource as you prepare for your video visit.
See how video visits work from your computer, smartphone or tablet.
| | |
| --- | --- |
| Computers | Phones & Tablets |
| | |
Before Your Appointment
You will need an active OSF MyChart account to participate in a video visit. If you did not receive an activation code by email or were not able to register upon scheduling your appointment, please visit the OSF MyChart website.
We recommend giving yourself a couple days to sign up in advance of your appointment to ensure you are connected.
Here's what else you'll need to get started:
Internet or Wi-Fi connection
A computer equipped with web cam, microphone and speakers (desktop or laptop)
Or a mobile device (smartphone or tablet)
Preparing Your Device
In order to successfully participate in a video visit, you will need a strong internet connection and a high-quality camera for your device. Many smartphones, tablets and laptop computers are equipped with a camera and microphone suitable for a video visit.
Your best choice for strong internet is a hardwired connection, meaning your device is plugged into an Ethernet cord, rather than connected to wireless internet.
While you can use a smartphone for your video visit, you are likely to have a stronger connection with a tablet or computer. If you are using a smartphone, it should be connected to Wi-Fi or have at least 4G capabilities.
Connecting to Your Appointment
Checking In
eCheck-In is required before you can connect to your video visit. You will do this through OSF MyChart using a phone or computer.
eCheck-In becomes available seven (7) days before your scheduled appointment time. We encourage you to review the video visit instructions in detail before your scheduled appointment time to help you quickly and easily connect with your provider.
At the Time of Your Appointment
When you are ready to connect to your appointment, you will do this using OSF MyChart. We encourage you to connect to your appointment up to 15 minutes before your scheduled time to ensure proper connectivity.
To prepare:
Find a quiet, private location with enough light.
Consider using a headset for the best sound quality.
Make sure your device is plugged in or charged with enough battery for the visit.
Make sure your speakers are unmuted and also that your volume level is set appropriately. You can also adjust the volume at the bottom of the video visit window.
Close all other applications on your device.
Consider having someone present with you to hold/position the camera if needed.
It may also be helpful to have access to your insurance card and any medications.
Plan to log into your video visit a few minutes before your scheduled appointment start time to begin the eCheck-In process.
Virtual Waiting Room
After you are logged in to your video visit, you will be in a "virtual waiting room" until your provider is ready and available – just like an in-person appointment.
Please stay close to your computer or device during this time, and try not to allow your device to lock or go to sleep, as this could disrupt your connection.
Troubleshooting