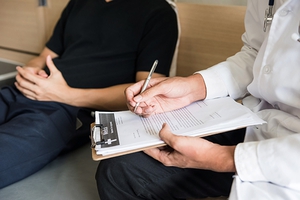 Under certain circumstances, adults and adolescents may be hospitalized for psychiatric or behavioral issues.
An inpatient psychiatric stay lasts a minimum of 72 hours (three days), while the average stay is four to five days.
During this time, treatment is focused on stabilizing the individual and preparing them for continued treatment.
Upon discharge, they should expect to be referred to other services, typically in an outpatient setting.
Adults or adolescents may be admitted for psychiatric treatment if they are believed to be a danger to themselves or others, demonstrate deficits in self-care or show signs of mental or emotional deterioration.
We help individuals with mental health issues, including:
Mood disorders, such as acute depression
Bipolar disorder (manic depression)
Anxiety disorders, including panic attacks and post-traumatic stress
Obsessive-compulsive disorder
Psychosis and schizophrenia
What to Expect
Inpatient psychiatric treatment includes restrictions for the safety and benefit of you, your family and the health care team.
No personal belongings are allowed during your stay. Bags, clothes or other personal items should be kept at home or in a secure location.
Visitors are allowed only during certain hours
Locations