A Message from Tom Hammerton, President OSF HealthCare Foundation
Cancer Institute Construction Update – February 2023
OSF Central Region CEO Bob Anderson provides a guided tour through the new OSF HealthCare Cancer Institute in Peoria, Illinois.
Proton Beam Therapy Arrives to Peoria October 2022
The Varian cyclotron equipment, which will provide proton therapy to patients at OSF HealthCare Cancer Institute has arrived!
Thanks to you, your belief in our audacious vision, and your generous support, the stage is being set for a new day in cancer care with the arrival of the proton beam equipment. Leading-edge technology will be partnered with exceptional care at OSF HealthCare Cancer Institute to provide true hope and healing for patients and their families.
For additional media coverage visit our newsroom: Proton therapy cyclotron arrives at OSF Cancer Institute (osfhealthcare.org)
Topping Off Ceremony April 2022
A Topping Off Ceremony for the new cancer institute was held April 28th. This centuries-old tradition of the construction and builders' trades is held when the final beam is placed on top of a structure during the construction process.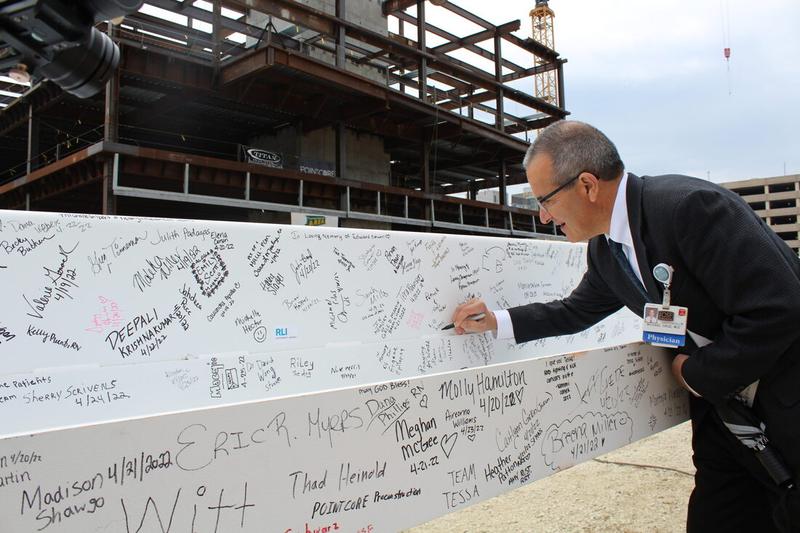 OSF HealthCare Institute Groundbreaking Celebration August 2021
On August 17, 2021, OSF HealthCare celebrated a historic day by officially breaking ground on the OSF HealthCare Cancer Institute.
Groundbreaking
The day that our donors, Mission Partners, community members and partners came together to celebrate the future of state-of-the-art cancer treatments coming to our communities.