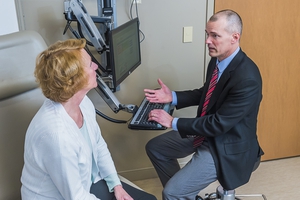 The OSF HealthCare Illinois Neurological Institute (OSF INI) is a designated Muscular Dystrophy Association (MDA) Care Center.
Our services have been developed with the unique needs of neuromuscular patients and their families in mind. The care team consists of physicians, advanced practice providers, registered nurses, physical, occupational, respiratory and speech therapists, social workers, registered dieticians and orthotic, wheelchair and equipment specialists. Why such a large team? So we can provide comprehensive care for you, the patient, and not just your health condition.
Most people think of muscular dystrophy as one disease, but it is actually a group of many hereditary muscular disorders. They vary greatly in the ages of people they impact, the muscles they affect and disease progression.
Conditions We Treat
Muscular dystrophies (limb girdle, Duchene's, myotonic, Becker's, and more)
Amyotrophic lateral sclerosis (ALS – Lou Gehrig's Disease)
Inflammatory myopathies
Diseases of the neuromuscular junction (myasthenia gravis and other myasthenic syndromes)
Specific hereditary neuropathies (Charcot-Marie-Tooth disease)
Metabolic disease