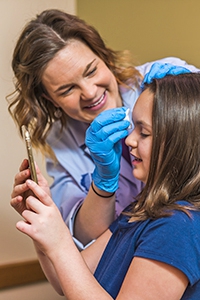 The OSF HealthCare Illinois Neurological Institute and OSF Children's Hospital of Illinois care for children with conditions like hydrocephalus, Chiari malformations, brain and spinal cord tumors, craniofacial anomalies, epilepsy, congenital/developmental anomalies of the brain and spinal cord, spine disorders, vascular diseases of the brain and spinal cord, concussion/traumatic brain injury and other traumas.
Our two board-certified pediatric neurosurgeons perform highly technical surgeries using state-of-the-art equipment and the most advanced surgical techniques, including use of the only intraoperative MRI in Central Illinois.
We work closely with other pediatric specialists – in neurology, developmental pediatrics, genetics, plastic and reconstructive surgery and rehabilitation medicine – to ensure that each child receives the personalized care they need, from evaluation and diagnosis through follow-up.
Read the story of one amazing patient and her recovery from brain surgery.