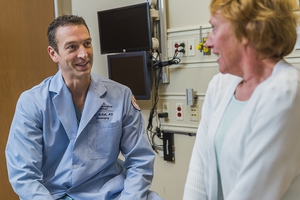 We understand the impact a spinal injury or condition can have on your life and the need for experienced, specialized care. Our fellowship trained experts have a long history of caring for patients with spinal problems ranging from low back pain, degenerative disc disease, osteoporosis and related stress fractures to trauma, tumors and deformity disorders requiring complex surgical intervention.
Spine surgeons at the OSF HealthCare Illinois Neurological Institute (OSF INI) Spine Institute perform approximately 1,000 spine surgeries each year, more than any other hospital system in the area and second largest program in Illinois.
Our neurosurgeons are dedicated to providing you the very best spine care that is supported by research, technology, clinical trials and experience.
Specializing in:
Degenerative spinal conditions
Revision spine surgery
Spinal deformity
Spinal tumors
Geriatric spinal surgery
Spinal trauma
Artificial disc replacement
Minimally invasive surgery
Additional Services:
Spine Health (Osteoporosis)
Pain interventions
Physiatry
Spinal cord injury
Spasticity clinic
Neuromuscular neurology specialist